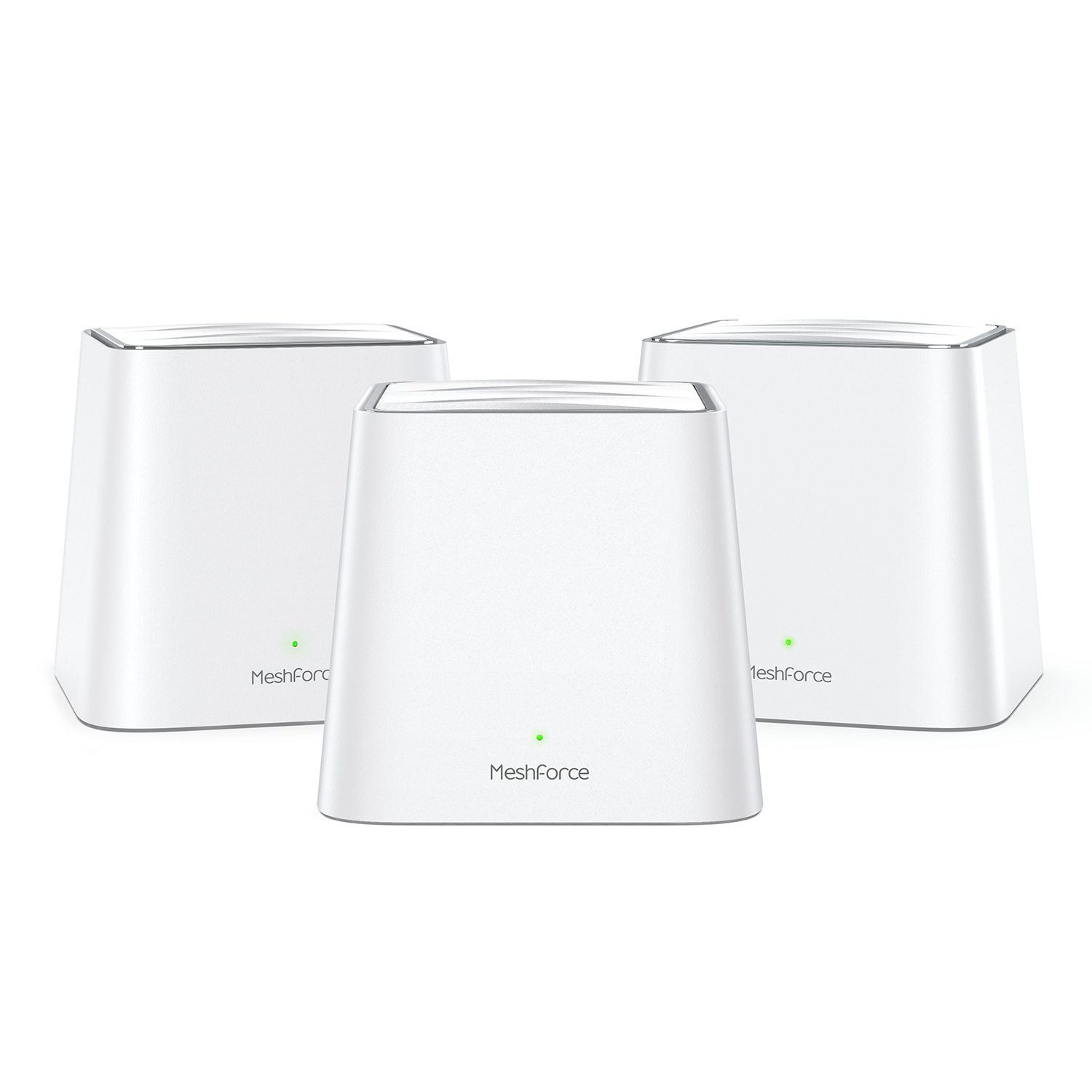 MeshForce Whole Home Mesh WiFi System / M3s
Meshforce's Flagship Mesh WiFi: Here is M3s Mesh WiFi System upgraded from MeshForce M1 and M3, equipped with all gigabit ethernet and even greater coverage. The dual band WiFi creates a super powerful wireless network for entire home. Capable for up to 60 devices so everyone can enjoy seamless, flawless and fast Internet.

Quick and Simple Setup: With My Mesh mobile app, setup your new M3s WiFi system in only 10 minutes. Remote management allows you see and control the WiFi status even when you are outside. 

Gigabit, Flexible, Secure: For the first time, M3s deploys full gigabit ethernet and more powerful wireless broadcasting performance. Also compatible with MeshForce M1 point and M3 dot, so you can extend the range with more choices. 

Control in the Palm of Hand: Simple but smart app helps you to see connected devices, creates isolated guest WiFi zone, manage your kids' Internet access by device and period.
3 Pack
$189 &Free Shipping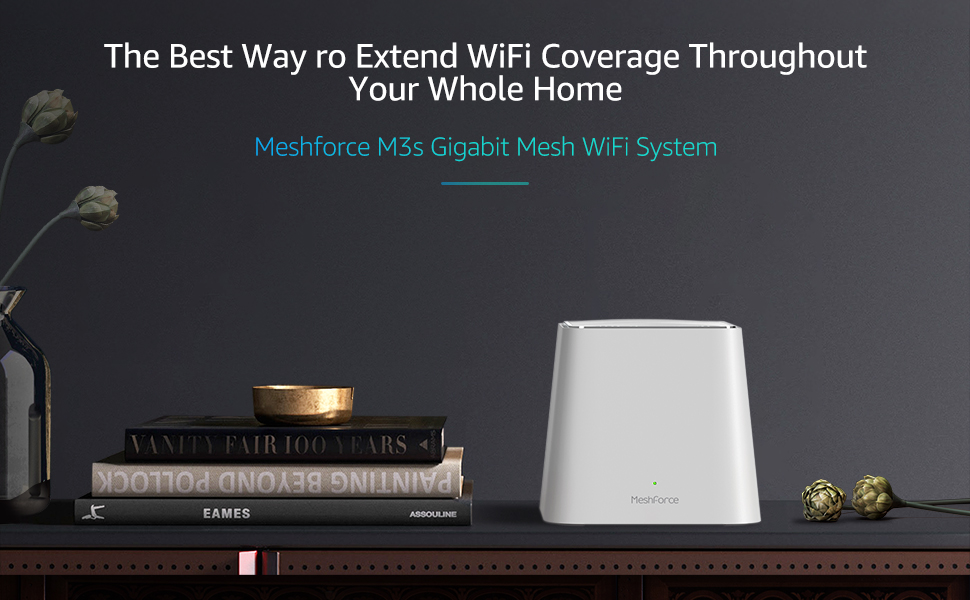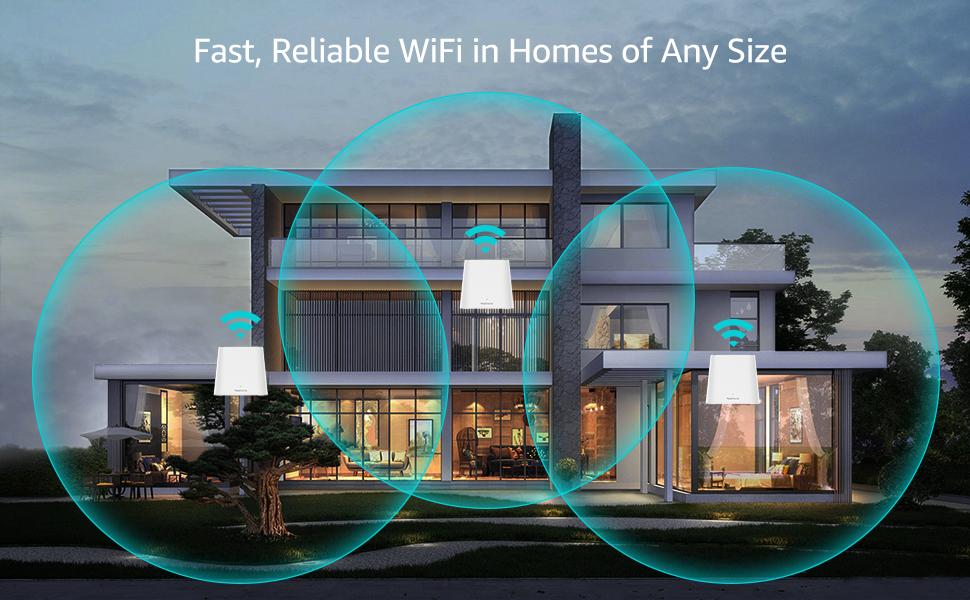 Fast Wireless Speed
M3s can provide up to three times faster network speed than previous generation products. You can greatly enjoy your streaming and gaming, and other activities in your connected smart life.
>
Easy to Setup and Manage
With the My Mesh app, you can set up your WiFi in minutes, customize your settings, control your WiFi, check WiFi status and connections anytime, anywhere.
Parental Control
Manage your kids' Internet access by device and period. Develop a healthy lifestyle and avoid addiction.
WiFi for Guests
Protect your password and privacy in a better way with Guest WiFi feature. Let your visitors' devices in the isolated network zone.
Dual Band WiFi
Supports both 2.4GHz and 5GHz wireless. Experience blazing fast speed and coverage
Introducing Meshforce M3s, the flagship Meshforce whole home mesh WiFi coverage system. Seamless and super high-performance coverage across your house. 
WiFi Performance Now Even Better on M3s 
MeshForce model M3s supports gigabit ethernet and 1000Mbps dual band WiFi on both 802.11n and 802.11ac. Upgraded WiFi performance covers bigger area compare with previous models.
One SSID for Entire Home 
Meshforce's Mesh technology allows multiple mesh points communicate with each other and self-heals the network quality. It allows you walk from upstairs to down, from garage to backyard without disconnecting because the mesh system always back your strong WiFi signal.
Manage WiFi on Mobile Remotely 
We made setup and manage WiFi easier. Now you can set up your WiFi with My Mesh mobile app, rather than through your old router's complicated admin page. You can even control your home WiFi remotely in the App.
Place Meshforce to Where You Need
Setup the main point and the rest points will join WiFi system automatically, simply place the point to where you need it, eliminate dead zones. Supports up to 6 mesh points and 60 devices.
Secure and Reliable
Higher class WPA2 Mixed encryption mode protects your WiFi password and data in better way. Now you can provide temporary WiFi access with guest mode to your visitors.
Tech Specs: 
Simultaneous Dual-band WiFi
On 5GHz: 802.11ac Up to 867Mbps
On 2.4GHz: 802.11n/g/b Up to 300Mbps
Secured WiFi Connection: WPA/WPA2-PSK Encryption
1x shared Gigabit WAN/ LAN Port / 1x Gigabit LAN Port
Supports PPPOE, Dynamic IP, Static IP, Bridge Mode
My Mesh App System Requirements: 
Use iOS or Android mobile device to setup
iOS 9 or higher/ Android 4.4 or higher
In the Box: 
3× Meshforce M3s WiFi Point
3×Power Adapters
1× Ethernet Cable
1× Quick Start Guide
Install in 5 minutes
Click right side button to check installation video.
Download My Mesh App
Click right side button to download the app.